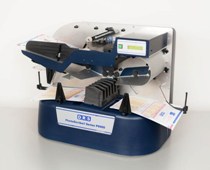 Flexible. Anywhere you need to collect data.
Form design (any language) and printing service.
Custom or standard software for your particular application (Arabic/French/English).
An Optical Mark Reader is only as good as its software. We can provide a complete range of custom and off-the-shelf software applications to suit your individual needs. As well as reading the data via the OMR, our software can analyse, build databases, process data, including complex statistical analysis, and output reports and data tables in a wide variety of formats. Arabic / English and other languages are fully supported, as well as Hijri dates, if required.

contact us